BOOK REVIEW of Halfway To The Grave by Jeaniene Frost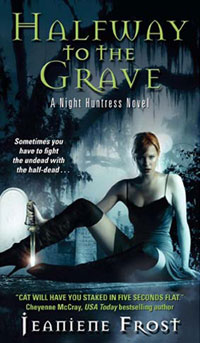 I read this whilst I was waiting for the second part of A Dance With Dragons to be delivered.
The friend who recommended it to me warned me that Spike was in it. I just didn't realise how much he was in it. Not that I minded. I'm extremely fond of William the Bloody. But anyways. Besides the roaring similarities, I rather enjoyed this book.
Some things won't stay buried...Half-vampire Catherine Crawfield is going after the undead with a vengeance, hoping that one of those deadbeats is her father - the guy responsible for ruining her mother's life.
But when she's captured by Bones, a bounty hunter and a vampire, she finds herself forced into an unholy partnership.
In exchange for his help in finding her father, and still astonished she hasn't ended up as his dinner, Cat agrees to train with the sexy night stalker until her battle reflexes are as sharp as his fangs. But that's not all Bones has to show her - Cat's starting to believe maybe vampires aren't all evil after all, especially ones as cute as Bones. She's half-convinced that being half-dead doesn't have to be all bad.
But before she can enjoy her newfound status as confident kick-ass demon hunter Cat finds herself, and Bones, hotly pursued by a band of killers. She's is going to have to pick a side - and fast.
Where Bones may be a little Spike-y, Cat is no Buffy. I couldn't decide if I liked her or wanted to protect her, from everything, most of all her bitch of a mother. Cat is young, extremely close minded (mainly due to her mother's brainwashing hatred towards anything inhuman) and reckless. She sticks to a tried and tested routine and doesn't have any back up plans if something changes, like when she meets Bones. If he wasn't such a gentleman, he would have killed her instead of just beating the crap out of her. Their relationship is borne from distrust and necessity and it makes for lively, amusing and intense reading.
The sex scenes are hot, the banter and innuendo is hotter, loaded into every conversation and deliciously naughty. Bones could floor me with a few of his lines. You gotta love a man who know how to use words.
In the midst of kidnapping plots, missing girls, vampires-a-million and her overbearing mother, Cat manages to survive, to grow, to open her mind to the fact that not every vampire is a vicious fiend. Plus, she learns to kick some serious ass. I loved reading about her development, it was slow but sure and she came out better for getting rid of her mother's ideals and forming her own.
This book is well written, fast-paced and detailed enough that I could settle into it and picture it. The charged chemistry between Cat and Bones was a cocktail of amusing, playful and dangerous and I look forward to reading the next one in her series.
Definite recommend, an easy read for anyone who loves vampire action romances.
I awarded this 4.5 Throbbing Hearts and a heat rating of Sinfully Hot.
Disclaimer: Own bought copy
Available from Amazon